Looks like a nu-metal album cover, doesn't it?... it's pretty much the opposite.
Wye Oak's second album begins like many great albums: with a track that sounds like a beginning of an adventure. 'This morning,' Jenn Wasner sings at the opening and the close 'I woke up on the floor, feeling like I'd never dreamed before.' 'Shriek' sounds just like that: a floaty dream full of off-kilter percussion, plinky plonky synths gravitating to the rhythm littered with weightless vocals. They are somewhat inventive for a duo, but the guiding thread of criticism I have for the album is that it routinely fails to grip the audience and generally sounds monotonous. Don't get me wrong: it's a lovely sound, but it only has a bare few strings to its bow. Its use of rattly, off kilter drums, poly-rhythmic synth arpeggios and feather light vocals means that the overall effect is almost hypnotic.
Duos are doing well at the mo: Black Keys, Royal Blood, Deap Vally, Drenge etc.
First of all, the title and album artwork don't fit the sound and content at all: when I saw the cover and name, 'Shriek', I thought I was about to listen to the angstiest punk album since 'All Killer No Filler'. The album is all curious melancholy and inner-searching. There's no aggression, no angst, nothing of the kind. That minor note aside, it is a distinct sound. Wikipedia describes it as Indie Rock but there's about as much rock as you'd find in a pack of marshmallows. It'd be more aptly described as 'math-pop', 'indietronica' or 'synth-pop'. Regardless, many of the tracks march forward in tricky yet listenable time-signatures. The duo are clearly skilled at their own brand of off kilter synth music.
The choice of singles are a bit strange: lead single 'The Tower' is, for me, one of the weakest tracks on the album. 'Glory' on the other hand earns its single place with flying colours:

a catchy chorus and space-age instrumental break down is just the trick to give the middle of the album a bit of a shakeup. 'Sick Talk' boasts a beautiful chorus and some brilliant atmospheric pauses. A bouncy R&B style beat underpins 'The Logic of Colour', a pleasant and memorable track which rounds off the album. It is backed by a bumble-bee synth and has some catchy melodies, along with some left-field lyrics. Insofar as variety is concerned, only the frenetic rhythm of 'Paradise' and the slow, echo-filled tune of 'I Know the Law' give the album any sense of variety.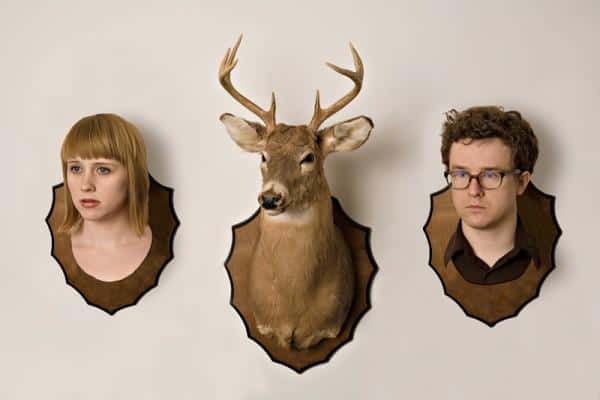 On the whole the relaxing dream that is 'Shriek' (again: why would you name such a chill album 'Shriek'!?) is easy to pass over while you listen. I have listened to it a number of times and each time I find myself glazing over numerous tracks. It's pleasant enough but despite its subtleties and skilled crafting, it is a pleasant but unremarkable record.
Overall Rating: 6.5/10

Track Ratings
1. Before 8/10
2. Shriek 7/10
3. The Tower 6/10
4. Glory 8/10
5. Sick Talk 8/10
6. Schools of Eyes 5/10
7. Despicable Animal 7/10
8. Paradise 6/10
9. I Know the Law 7/10
10. Logic of Colour 8/10